Image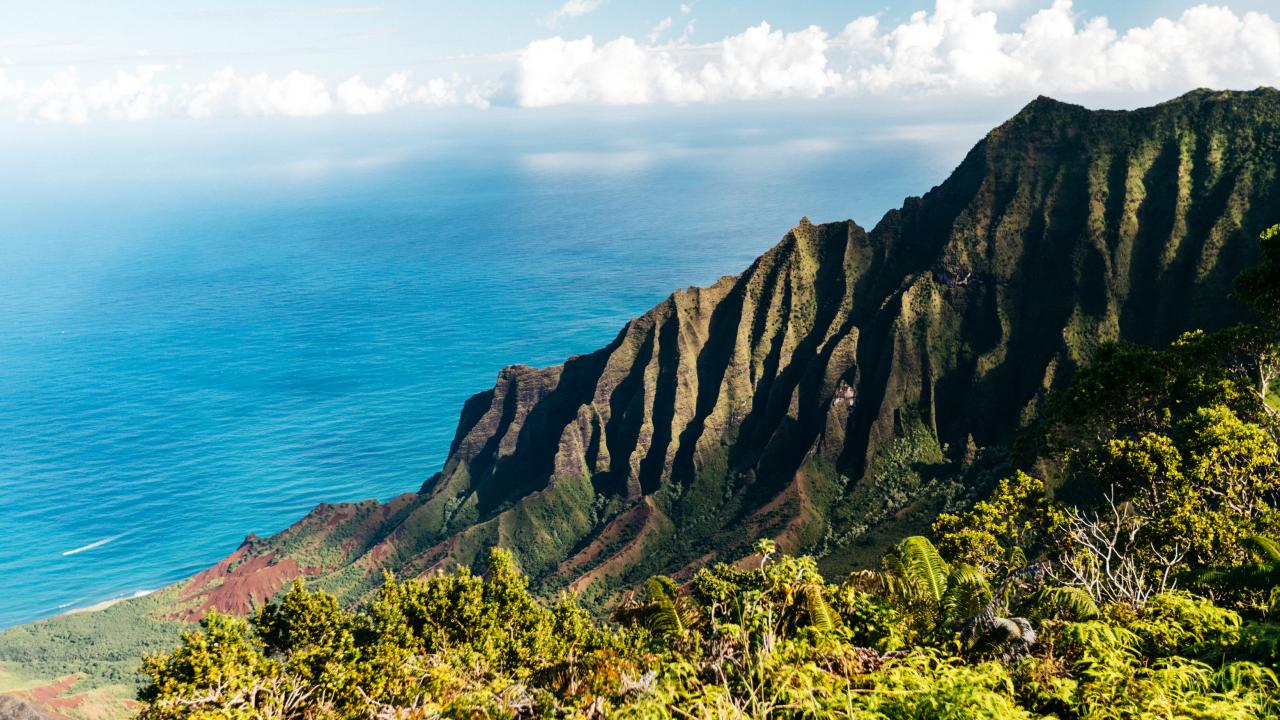 Kauai News Releases
Kauai: What's Blooming on the Garden Island – January 2019
January 30, 2019
LIHUE, KAUAI – What better way to escape the chilly weather than a getaway to the Garden Island. Celebrate the new year with warm weather, tropical scenery and the sharing of the Aloha Spirit with your loved ones on the island of Kauai.
"Whether you are on a special trip with a loved one or have the entire family along for a vacation, Kauai is meant to be enjoyed with those you care about most," says Sue Kanoho, executive director of the Kauai Visitors Bureau. "Kauai is a gift for travelers looking to make memories that will be recalled fondly as the years go by. The awe-inspiring beauty, unique activities and serenity found throughout the island always make for a memorable visit."
With 2019 in full swing, check out the following updates and information about the newest happenings, special deals and events "blooming" on Kauai.
WHAT'S NEW
Help Protect Ohia Trees on Kauai
Rapid Ohia Death (ROD), a fungal disease killing ohia trees on Hawaii Island, has now been confirmed at four locations on Kauai. Ohia is the keystone species of the Hawaiian forest, and the trees are considered critical to the function of Hawaiian watersheds and the ecology of Hawaii, as evidenced by this Hawaiian moolelo (saying): I walea ka manu i ka ula o ka lehua (the bird is attracted by the redness of the lehua). Ohia also plays an important role in Hawaiian culture. Wounds serve as an entry point for the fungus. Visitors can help prevent the spread of ROD by: Avoid injuring ohia, clean soil off shoes before and after entering forested areas and spray with rubbing alcohol, wash clothes with hot water and soap, wash vehicle with a high-pressure hose if you've been off-roading or have picked up mud from driving, clean soil off mountain bikes, motorcycles and vehicle undercarriage tires and spray with alcohol. For more information about ROD, visit rapidohiadeath.org or email [email protected].
The Lodge at Kukuiula Spotlights Elevated Experiential Travel on Kauai
The Lodge at Kukuiula seeks to elevate experiential travel on the Garden Island by offering guests opportunities to develop an expertise specific to the destination. Beginning in January, the Lodge will offer a monthly "intensives" series looking to empower its members and guests to take their outdoor experiences on Kauai to the next level. As described by the Lodge, the new program is designed for the curious adventure seeker and individuals looking to learn proper skill sets to confidently and self-reliantly continue activity engagement while exploring the island's unique charms. For more information and program details, visit www.lodgeatkukuiula.com, or call (866) 901-5204.
Culture and Scenery Spotlighted on Na Waiwai: Land and Sea Tour
Holo Holo Charters aims for its guests to discover and take in new travel experiences filled with Hawaiian cultural knowledge and scenic beauty on its Na Waiwai Land and Sea Tour. Guests on the tour will experience a guided visit to an ahupuaa (Hawaiian mountain-to-sea land division), hike to a secluded waterfall and learn about Polynesian voyaging. For more information and to book the tour online, visit www.holoholocharters.com, or call (808) 335-0815.
Tasting Kauai Adds New Food Tour Options
Culinary tour company Tasting Kauai is now offering tours to the west side and Lihue areas of the Garden Island. The West Shore Food Tour takes guests on a stroll through historic Hanapepe town to discover farm-to-table eats, private tastings and chef demonstrations. The Lihue Farm Tour is centered around farming and food growth on Kauai with stops to farms, farmers markets and farm-to-table restaurants. Tasting Kauai also operates food tours to the north shore, south shore and east side of the island. For more information, visit www.tastingkauai.com.
Jam Tasting Experience at Monkeypod Jam
Take your jam experience to a whole new level with Monkeypod Jam. Every Thursday from 2 to 2:45 p.m., guests can enjoy a seasonal flight of pupu highlighting the season's preserves, while learning the history of Monkeypod Jam. Get an in-depth look at what is in season on Kauai while tasting Monkeypod Jam's current collection of jams, jellies, syrups, ferments and chutneys. Plus, guests will have the opportunity to receive 10% off all preserve purchases while there. The Jam Tasting Experience costs $25 and is located at Monkeypod Jam in Lawai. For more information, visit https://monkeypodjam.com.
Explore the Garden Island in Style with Kauai Camper Rental
Providing a sustainable alternative to camping on the Garden Island, Kauai Camper Rental offers a unique way for its guests to explore Kauai in a timeless restored Volkswagen Westfalia camper van. With sleeping arrangements for either 3 adults, or 2 adults and 2 children, the alternative accommodation offering allows nature-loving travelers to wake up to a sunrise and end the day with an evening sunset. Equipped with everything needed to have a worry free VANcation, Kauai Camper includes camping gear, cooking supplies, maps, and more with each rental. For more information, visit www.kauaicamperrental.com, call Josh and Sarah at (808) 346-0957 or email [email protected].
Michal Abramovitz Art Studio – Treasures of Light
Located in the quaint town of Hanalei, Michal Abramovitz's Art Studio captures the vibrant essence of the Hawaiian Islands. Abramovitz's original style of art transforms the islands varied complexion of rich hues into living color on her canvases. In addition, her designs can be found on swimwear, silk pareos, lush beach towels and more. Studio and store hours are Monday through Friday from 1 to 5 p.m. or by appointment. For more information, visit www.michalart.com or call (585) 364-2425.
Kipu Ranch Adventures Supports Shriners Hospital for Children
Kipu Ranch Adventures and its guests chose Shriners Hospital for Children – Honolulu as its charity in 2018. A portion of proceeds raised from guests selecting the Shriners Teryx4 vehicle when booking a Kipu Ranch Adventure tour will be donated to the hospital to support the multiple services it provides, including life-transforming orthopedic care, neurodevelopmental care, surgeries, physical therapy, occupational therapy, its fracture clinic and more. Kipu Ranch Adventures proceeds from the special bookings raised over $62,000! For more information, visit www.kiputours.com/support-shriners-hospital, or call (808) 246-9288.
KAUAI SPECIAL OFFERS
Golf and Spa Getaway at The Lodge at Kukuiula
The Lodge at Kukuiula's Golf and Spa package includes accommodations in one of the plantation-style homes or contemporary villas overlooking the property's golf course. Guests purchasing the package are given access to amenities at The Club at Kukuiula, including daily fitness classes, continental breakfast, four rounds of golf on the 18-hole Tom Weiskopf-designed course, and four spa treatments at the Hiilani Spa. For more information, visit www.lodgeatkukuiula.com/offers/kauai-golf-and-spa. 
The Lodge at Kukuiula Offers Guests Experiential Credits
The Lodge at Kukuiula, located on Kauai's south shore, is offering a $1,000 experiential credit to guests booking five-night stays in one of the property's three or four-bedroom homes. Guests staying in a one- or two-bedroom home will receive a $500 credit. The experiential credits may be used at The Lodge at Kukuiula's Hiilani Spa, Huakai Outfitters, the golf course and dining outlets. Additional amenities include daily complimentary fitness classes and continental breakfast. For more information, visit www.lodgeatkukuiula.com/offers/resort-credit. 
Wyndham Bali Hai Villas Offers Guests Much to See and Do on Kauai's North Shore
The Wyndham Bali Hai Villas, located in the Princeville resort area just outside of Hanalei town, is also near the north shore of Kauai's many restaurants, beaches, galleries, boutiques and picturesque golf courses. Guests are invited to enjoy one of the resort's two pools or even play a game of tennis when not relaxing in one of Wyndham Bali Hai Villas' one- or two-bedroom suites. For more information or to learn about specific deals, visit www.vacationhawaii.com/wyndham-bali-hai-villas/specials/wyndham-bali-hai-villas-211.
UPCOMING KAUAI EVENTS
E Kanikapila Kakou 2019: Music is Our Moolelo, January 21 – March 25, 2019
The Garden Island Arts Council presents ten weeks of E Kanikapila Kakou. The theme is centered around the story of music and will feature the best of Hawaiian music, artists, composers and storytellers. Guests will also be invited to learn from kumu hula who will share their songs, stories and dance. The weekly events will be held at the Aqua Kauai Beach Resort Jasmine Ballroom from 6 – 9 p.m. every Monday beginning on Monday, January 21. The series of events will conclude on Monday, March 25. For more information, email Carol Yotsuda at [email protected] or call (808) 245-2733.
The Number Film Festival, February 1 – 7, 2019
The Number Film Festival is your opportunity to go back in time to watch 21 classic films on the big screen! Visit Kukui Grove Cinema from Friday, February 1 through Thursday, February 7 to catch a showing. Tickets to all 21 films cost $20 and can be purchased at the box office. Share the fun with family and friends and pass along your ticket. For more information, call Kukui Grove Cinema at (808) 245-3552 or visit kukuigrovecinema.com. 
Waimea Town Celebration, February 16 – 24, 2019
Commemorating Waimea town's proud history and tight-knit community, the Waimea Town Celebration annually features cultural and recreational events the whole family can enjoy. The nine-day festival includes hula performances, live entertainment, the Waimea Roundup Rodeo (one of the state's largest Hawaiian rodeos), a long-distance canoe race, a celebration of last independent Kauai and Niihau king Kaumualii, the Waimea Film Festival, keiki (kids) games and rides, sports events and competitions, educational and cultural exhibits, craft vendors, food booths and more. The festival concludes with a two-day finale highlighted by the Heritage of Aloha Hoolaulea at the town's historic former sugar mill. For more information, visit www.waimeatowncelebration.com.
Preserving Hawaii Workshop: Adobo, February 21, 2019
Preserving Hawaii Workshop will take place on Thursday, February 21 from 5 to 7 p.m. at Monkeypod Jam in Lawai. Learn how to make adobo, a popular Filipino dish from Chef Clinton Nuyda, executive chef of Eating House 1849 by Roy Yamaguchi. Chef Nuyda will be sharing his favorite recipe for chicken adobo, which can be enjoyed following the workshop. For more information, or to purchase tickets visit https://monkeypodjam.com.
9th Annual Anahola Prince Kuhio Day Celebration, March 16, 2019
The 9th annual Anahola Prince Kuhio Day Celebration will take place on Saturday, March 16 from 11 a.m. to 4 p.m. at Anahola Beach Park. The event reaffirms the leadership, stewardship, and vision of Prince Jonah Kuhio Kalanianaole and his legacy in perpetuating the growth of a healthy Hawaiian community on aina hoopulapula (homesteads land). The free celebration will feature live music, entertainment, and hula performances honoring the past and embracing the future of Prince Kuhio's legacy. For more information, email La Contrades at [email protected] or Lady Ipo Kahaunaele-Ferreira at [email protected].
KAUAI – HAWAII'S ISLAND OF DISCOVERY
Also known as the Garden Island, Kauai is green and lush with flora from mountain to ocean. The island offers more than 50 miles of white sand beach – adding up to more beach-per-mile than any island in Hawaii. Other Kauai natural wonders include 3,567-foot-deep Waimea Canyon (often called The Grand Canyon of the Pacific) and the towering 3,000-foot sea cliffs of the Napali Coast.
Kauai's abundance of outdoor activities – which includes kayaking, snorkeling, hiking, mountain tubing, horseback riding, ATV adventures, zip-line tours, and helicopter and boat tours – offers memorable vacation experiences for the entire family.
For information about Kauai – Hawaii's Island of Discovery – visit www.kauaidiscovery.com, or call the Kauai Visitors Bureau at (800) 262-1400. You can also follow updates about Kauai on Twitter (@kauaidiscovery), Instagram (@kauaidiscovery) or by liking the Facebook page of the Kauai Visitors Bureau.
The Kauai Visitors Bureau is a division of Hawaii Tourism United States (HTUSA), which is contracted for marketing management services in North America by the Hawaii Tourism Authority (HTA), the state of Hawaii's tourism agency. The HTA was established in 1998 to ensure a successful visitor industry well into the future. Its mission is to strategically manage Hawaii tourism in a sustainable manner consistent with the state of Hawaii's economic goals, cultural values, preservation of natural resources, community desires, and visitor industry needs.
# # #