News, Updates and Aloha from O'ahu
(September 2022, Quarter 3)
O'AHU — Home to world-class dining, hotels, shopping, museums, art, activities and entertainment, all set in an urban yet tropical landscape rooted in rich cultural history, O'ahu is one of Hawaiʻi's most popular visitor destinations. Autumn brings with it new and exciting experiences for travelers, making the season one of the best times of year to visit the island. Whether you prefer a relaxing day out in the sun at one of the island's relaxing beaches, a cool hike in a verdant rainforest, or an adventure somewhere in-between, O'ahu offers something for everyone, all of it delivered with the spirit of aloha.
An Introduction to the Maʻemaʻe Hawaiʻi Style & Resource Toolkit
This year, O'ahu Visitors Bureau's quarterly eNewsletters are highlighting a different section from the Hawaiʻi Tourism Authority's Maʻemaʻe Toolkit for readers. The toolkit is a guiding resource for everyone with interest in Hawaiian culture looking to represent and honor Hawaiʻi, the Hawaiian language ('ōlelo Hawai'i), our ʻāina (land) and our Hawai'i community in a pono (correct) way.
Nā Mea E Maka'ala 'Ia: Sensitivities
I ka 'ōlelo nō ke ola,
i ka 'ōlelo nō ka make.
Words can heal, words can destroy.
—    'Ōlelo No'eau No. 1, 191, Pukui
Alongside the Hawai'i Tourism Authority (HTA), Oʻahu community partners and the island's visitor industry, the Oʻahu Visitors Bureau (OVB) is supporting efforts aimed at shifting misrepresented perceptions of the island of O'ahu to ones both culturally authentic and ethical.
In educating and informing visitors, and even residents, on common misrepresentations and culturally insensitive stereotypes of Hawai'i and its culture, people and natural world on a respectful level, everyone who listens earns a true gift of aloha. Introducing a more equitable approach to this, OVB aims to position Oʻahu as a regenerative and mindful tourism-industry leader.
The following page is a snapshot of the Nā Mea E Maka'ala 'Ia: Sensitivities section of HTA's Maʻemaʻe Toolkit. It includes common components of life in Hawaiʻi that make it the culturally unique destination it is. Download the complete Maʻemaʻe toolkit on HTA's website for a complete list.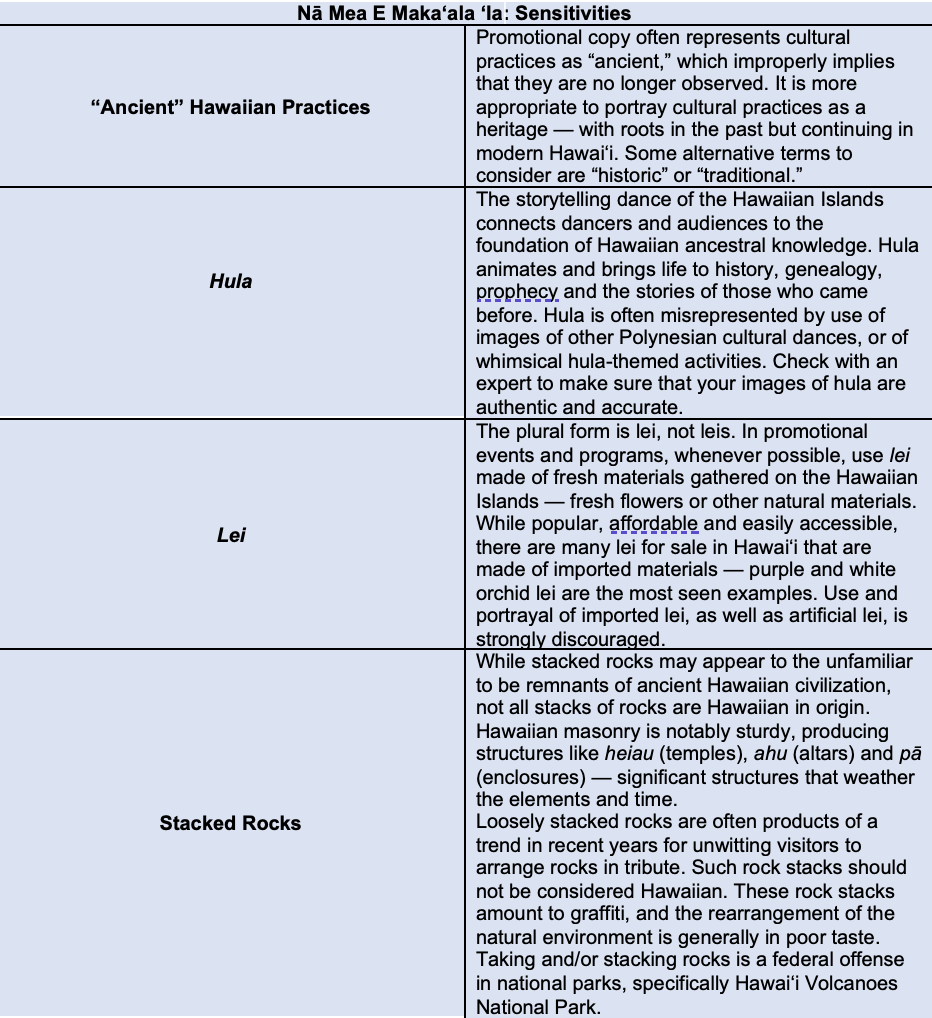 ​
There is no shortage of news and goings-on to report across O'ahu. Read on to learn about new attractions, events and offerings enhancing your next visit to the island known as The Gathering Place and create memories that will last a lifetime.
Activities and Attractions
Aloha Hawaiʻi Tours
From history tours illustrating Hawaiʻi's past such as a visit to Pearl Harbor, to more adventurous excursions such as hiking to a waterfall or experiencing local food favorites on the island's North Shore, Aloha Hawai'i Tours variety of guided tours are aimed at offering something for everyone in your 'ohana (family). Sit back, chill or get ready for adventure as the company's tour guides share popular viewing spots, major destinations and hidden places. You can now also create build-your-own custom tours. The company also accommodates large groups or guests with specific destinations or experiences they'd like to visit. AlohaHawaiiTours.com
Bernice Pauahi Bishop Museum: "Taxonomy: Our Lives Depend on It" Exhibition
Bishop Museum is presenting an interactive multimedia exhibition exploring the importance of taxonomy — the identification and naming of plants and animals — and the role it plays in our everyday lives. "Taxonomy: Our Lives Depend On It" features a variety of dynamic media, including images, video and interactive visuals offering visitors stories of this critical branch of science and those who work within it. The exhibit also showcases one of the largest displays of plants and animals from Bishop Museum's natural sciences collection, which itself boasts more than 20 million specimens, much of it inaccessible to the public. The exhibit is now open in the museum's J.M. Long Gallery through Feb. 19, 2023. BishopMuseum.org
 
International Market Place
'O Nā Lani Sunset Stories at International Market Place is moving to a 6:30 p.m. start time, three nights a week on Mondays, Wednesdays and Fridays. Free and open to the public, the show honors the center's history and sense of place through performances of Hawaiian and Polynesian song and dance. It all begins at sunset with the ceremonial lighting of the center's Lamakū Torch Tower on Kalākaua Avenue and leads to the stage at its Queen's Court. ShopInternationalMarketPlace.com
One of O'ahu's most intimate lū'au experiences, the Queens Waikiki Luau happens at the International Market Place three nights each week on Tuesdays, Saturdays and Sundays, from 5 to 8 p.m. Guests enjoy dinner, bar access and interactive activities. Capped at 70 attendees, the lū'au also features a Polynesian revue encompassing Pacific cultures and including music, song and the famed Samoan fire-knife dance. QueensWaikikiLuau.com
Kumu Kahua Theatre
Showcasing world-class theatre by and about the people of Hawaiʻi, Kumu Kahua Theatre is presenting its 52nd season and first devoted exclusively to its audience favorites through the years. Tickets are on sale now for "Lucky Come Hawai'i," running November 3 through December 4. Showtimes at the iconic theatre, located at 46 Merchant Street in downtown Honolulu, are Thursdays, Fridays and Saturdays at 8 p.m., and Sundays at 2 p.m. Kumukahua.org
Sea Life Park
Sea Life Park's new Limu Tour spotlights the fascinating edible marine plant found in Hawai'i waters and the park's restoration-focused partnership with Waimānalo Limu Hui. Guests learn about the Hui's work, see how and where limu grows, and support the Hui's efforts by making a limu lei for release into nearby Waimānalo Bay. SeaLifeParkHawaii.com
Waikiki Beach Walk
Waikiki Beach Walk continues to host an array of complimentary music and cultural programming throughout the end of 2022. Kū Ha'aheo happens Tuesdays at the Plaza Stage, with live Hawaiian entertainment from 4:30 to 6 p.m. Ka Lei Hula offers complimentary hula practice each Sunday morning at 9 a.m., with classes offered free, with pre-registration encouraged. Register on EventBrite.com. All events are held weather permitting.
The Royal Room/Hawaiian Music Hall of Fame at Waikiki Beach Walk offers Hawaiian music history and other cultural programming, with live streams, on the 21st of each month as part of its Make Music Hawai'i series. The Royal Room also hosts free Feather Flower classes Wednesdays at 11 a.m. and 2 p.m. Space is limited, with class spots reserved by calling ahead at (808) 499-7408.  
Festivals & Events
Hawaiʻi Book & Music Festival (Virtual): October 1-31
The Hawaiʻi Book and Music Festival celebrates the stories and authors of Hawai'i through books, storytellers and music from across the state and beyond. This year's monthlong festival virtual programming will include sessions featuring authors and community thought leaders sharing on topics of Hawaiian culture, wellness, sustainability and more. HawaiiBookandMusicFestival.com.
Gay Bowl XXII Honolulu 2022: October 6-9
The National Gay Flag Football League Gay Bowl XXII travels to Honolulu for its 2022 slate of games. All are welcome to come watch and cheer on their favorite teams, including several local teams representing the Hawai'i Gay Flag Football League. While competitive, the event also aims to educate, include and encourage communication between all members of the LGBTQIA2S+ community, bringing together teams and leagues from across the U.S. NGFFL.org.
Honolulu Pride Parade and Festival: October 15
Hawai'i's largest LGBTQIA2S+ community event is a daylong celebration highlighted by the Honolulu Pride Parade — winding through Waikīkī from Magic Island at Ala Moana Beach Park to Kapi'olani Park — and the Honolulu Pride Festival. The festival features live music, inspirational speeches and entertaining activities. HawaiiLGBTLegacyFoundation.com.
Makalauna, an annual tribute to Gabby Pahinui at Waikiki Beach Walk: October 15
Honoring legendary Hawai'i musician Gabby "Pops" Pahinui and 'ohana (family), this annual ceremony includes musical tributes, hula and a lei draping at Waikiki Beach Walk. A favorite photo stop of passersby, Pahinui's statue graces the Waikiki Beach Walk Plaza. Scheduled to happen at Makalauna are:

A Ceremonial Tribute led by Waikiki Beach Walk Entertainment and Cultural Director Blaine Kamalani Kia
A Live Music Tribute hosted by ONE MELE A Core of Hawaiian Musicians and featuring special guest and Pahinui grandson Kunia Galdeira and other representatives of the Pahinui ʻohana. WaikikiBeachWalk.com
Mele Hali'a Sunday Showcase at Waikiki Beach Walk: October 16
Mele Hali'a features live Hawai'i music entertainment from some of the state's best and most award-winning artists and happens monthly. All performances are free of charge. Greg Sardinha and Friends will headline the monthly musical showcase on Sunday, October 16, from 5 to 6 p.m. Hawaiʻi born and raised Sardinha is a talented steel guitar player and winner of the 2014 Nā Hōkū Hanohano Hawai'i music award for Instrumental Album of the Year. WaikikiBeachWalk.com
Hawai'i's Woodshow, Nā Lā'au o Hawai'i 2022: October 16-30
A premier showcase for the works of the state's top wood artisans, the Hawai'i Forest Industry Association's Hawai'i's Woodshow features creations made with native, sustainably grown wood. Annually held at the Hawaiʻi Opera Plaza in Honolulu, Hawai'i's Woodshow is inviting the public to experience artist submissions in-person or online this year. The show's woodworking categories include accessories, furniture and sculpture. HawaiiForest.org.
James Beard Foundation's Taste America Honolulu: October 17
Taste America, presented by Capital One, is a nationwide initiative bringing together chefs, special guests and diners from across the country to celebrate and honor local independent restaurants. Taste America Honolulu will be held at downtown Honolulu restaurant The Pig and The Lady as an intimate dinner with a multicourse menu curated by chef/co-owner Andrew Le and Chef Ravi Kapur of Good Good Culture Club and Liholiho Yacht Club in San Francisco. The menu will symbolize the signature cooking styles of both chefs and highlight the uniqueness of their restaurants and communities. The dinner will also include beverage pairings for each course. JamesBeard.org.
Honolulu Rainbow Film Festival: October 20-23
The Honolulu Rainbow Film Festival, one of the longest-running and most respected queer film festivals in the U.S., returns to an in-person format this year in celebration of its third anniversary. The festival's mission leverages the power of film to amplify awareness, engage, energize and instill a sense of pride and respect in Hawai'i's thriving lesbian, gay, bisexual, queer, transgender and māhū community. The festival is presented annually by the Honolulu Gay and Lesbian Cultural Foundation, a self-supporting 501(c)(3) nonprofit, in honor of Hawai'i LGBTQIA2S+ pioneer Adam Baran. HGLCF.org.
Honolulu Zoo: October 29
Celebrate spooky season at the Honolulu Zoo with "HallowZoo" on October 29, from 10 a.m. to 2 p.m. The daytime event includes a Haunted Habitat Treat Trail, as well as a "scare-venger" hunt through the zoo for keiki (kids) to win prizes. Visit HonoluluZoo.org or call (808) 926-3191.
Halloween Happenings at International Market Place: October 29-31
Families with kids are invited to trick-or-treat from 4 to 6 p.m. at participating International Market Place stores and restaurants. Look for special costumed characters with candy and treats at the Queen's Court on Level 1. From October 29 to 31, International Market Place patrons are invited to take a photo at the center in costume at and upload it to enter a virtual costume contest. ShopInternationalMarketPlace.com
Hawaiʻi Food and Wine Festival (Oʻahu): Novemeber 3-6
Hawaiʻi's premier annual culinary event touches down on to Oʻahu from Novemeber 3-6, featuring a lineup of renowned Hawai'i and international chefs, industry personalities, and wine and spirit producers. HawaiiFoodandWineFestival.com.
Hawai'i International Film Festival: November 3-13
Featuring an exciting international program of films from 40-plus countries around the world, as well as a schedule of industry panels and career development workshops, the 42nd annual edition of the festival will be an in-person and online hybrid event with in-theater screenings presented at Consolidated Kahala and Ward Theatres from November 3-13. To purchase in-person passes, visit Hiff.org.   
Battleship Missouri Memorial's Veterans Day Ceremony: November 11
The Battleship Missouri Memorial is host of this annual Veterans Day ceremony at Pearl Harbor commemorating members of the U.S. military, and honoring all past and present veterans who have served our country with valor and heroism or made the ultimate sacrifice. The public is invited to attend and honor all who have fought and continue to fight for our country and our freedom. USSMissouri.org.
Made in Hawaii Festival 2022: November 11-13
Made in Hawaii Festival, presented by Mahi Pono, is once again set to happen at Ala Moana Center over the Veterans Day holiday weekend, November 11-13. One of the state's most-popular and longest-running showcases of made-in-Hawai'i products, this year's festival is expected to feature more than 300 vendors showcasing thousands of local-made products, including food, books, fashion, handmade crafts, jewelry and more. The 2022 event will also welcome the return of live Nā Hōkū Hanohano Hawai'i music award-winning entertainment and chef demos. MadeInHawaiiFestival.com
Holiday Fun at International Market Place: December
In search of December holiday magic in Waikīkī? Visit the International Market Place for:

Dining: Restaurants will feature special Christmas and New Year's menus in addition to a variety of catering, private function and takeout packages.
Entertainment: Photos with Santa will be offered from December 1 through 25, and a special Christmas concert with musician Kimie Miner is set for December 21.
Extended Fukubukuro Days: Although the Japanese New Year custom Fukubukuro is traditionally celebrated on January 1, International Market Place is offering up merchant deals over two  days — on New Year's Day AND a day early on December 31. On both days, as part of the tradition, International Market Place stores will pack "secret" Fukubukuro bags with mystery merchandise for lucky shoppers. Each Fukubukuro bag is sold at a discount of at least 50% off the full retail value. ShopInternationalMarketPlace.com
National Pearl Harbor Remembrance Day: December 7
Each year on December 7, survivors of Imperial Japan's 1941 attack on Pearl Harbor join U.S. military veteran and visitors from around the world at the Pearl Harbor National Memorial to honor and remember the 2,403 service members and civilians killed in the surprise attack. The theme of this year's National Pearl Harbor Remembrance Day Commemoration is "Valor, Sacrifice and Peace." PacificHistoricParks.org.
Honolulu Marathon: December 11
The fourth-largest marathon in the U.S. begins its 26.2-mile route at Ala Moana Beach Park before sunrise, sending runners through metro-Honolulu and Waikīkī then along O'ahu's south shore to Hawai'i Kai before turning back and finishing in Waikīkī at Kapi'olani Park. Runners enjoy a large sampling of scenic views throughout, including passes alongside Waikīkī's beaches and over the slopes of Lēʻahi (aka Diamond Head State Monument). HonoluluMarathon.org.
"Seven Days 'til Christmas" at Waikiki Beach Walk: December 19-25
"Seven Days 'til Christmas" is a weeklong celebration of traditional hula and Hawaiian song from local hula hālau (hula groups) and well-known entertainers. The series runs December 19-25, from 6 to 7 p.m. daily. WaikikiBeachWalk.com
Hawaiian Airlines Diamond Head Classic: December 22, 23, 25
The Hawaiian Airlines Diamond Head Classic is an eight-team, 12-game bracket tournament annually featuring an invitational lineup of some the nation's top collegiate men's basketball teams. The tournament is held at the University of Hawai'i at Mānoa's Stan Sheriff Center. DiamondHeadClassic.com.
Hawai'i Bowl: December 24
The Hawaiʻi Bowl moves to the University of Hawai'i at Mānoa campus this year for its next post-season meetup at the newly upgraded Clarence T.C. Ching Athletics Complex. The contest annually invites an NCAA Division 1 college team from the Mountain West Conference and either a team from the American Athletic Conference or Conference USA for bowl play. The Hawai'i Bowl is known for its traditionally high-scoring games, thrilling offenses and close matchups, with a history of two overtime contests and seven games decided by one touchdown or less. The annual bowl game supports multiple nonprofit organizations through its Hawai'i Bowl Foundation. HawaiiBowl.com.
Honolulu City Lights: December
Experience the spirit of the holiday season — minus its chilly weather — at the City and County of Honolulu's official Christmas tree and winter wonderland display. Hosted annually on the grounds of the Honolulu Civic Center, the monthlong Honolulu City Lights festivities stocks the area with large-scale Christmas-themed displays, holiday trees and wreaths, and, most famously, mammoth effigies Shaka Santa and Tutu Mele — Hawai'i-style takes on Santa and Mrs. Claus. HonoluluCityLights.org.
Hotels
 
Aqua-Aston Hospitality
In support of Hawaiʻi's strategic sustainable development and regenerative-tourism goals, Aqua-Aston Hospitality recently completed enhancements at its Aqua Palms Waikiki, slashing the property's energy consumption by 45% and contributing toward Hawai'i's 2045 carbon neutrality goal. The boutique hotel partnered with renewable energy company Ameresco to improve its overall energy efficiency. Upgrades to the property include:

A new water-cooled chiller system requiring less power to supply the hotel's cooling needs
Conservation of water collected from AC unit condensation and water-potted plants
Replacement of parking lot lighting with energy-efficient LED lighting to reduce energy usage
Halekulani Waikiki
Halekulani's Art of Wellbeing presentations offer a dose of wellness in Waikīkī for guests and locals. The bimonthly 75-minute presentations led by Halekulani's team of resident experts happens on the second and fourth Saturday of each month and are available to the public for $25 per person. Halekulani.com
Kaimana Beach Hotel
Design your own surfboard! Hotel guests can customize their own longboard with International Surfing Association (ISA) world longboard champion and Waikīkī native Kai Sallas, who recently debuted his own line of surfboards inspired by the waves on which he learned to surf. Guests work personally with Sallas to design and shape their board, selecting everything from model to color. Sallas even inscribes a personal message on the finished boards, which are shipped to the guest's home following a private surf lesson with him. The package includes five-night suite accommodations and starts at $6,999.
Surfing Photoshoot. Hotel guests get to take home professional photos of their ocean adventure on a surf session with surf photographer Tommy Pierucki, whose photos have appeared on the covers of the world's top surf magazines and in brand content for Roxy, Quicksilver and RVCA. The experience includes a private lesson with ISA world longboard champion Kai Sallas captured in high-resolution photos. Post-surf session guests will dine beachside at Hau Tree restaurant, a local favorite for hearty brunches and fresh juices. The package starts at $1,699. Kaimana.com
The Laylow
The Laylow recently partnered with Aloha Collection to launch a collection of branded bags featuring the hotel's signature monstera leaf wallpaper pattern. Bags are available for purchase in the hotel's gift shop or online at Aloha-Collection.com. The Laylow also recently partnered with Midori Bikinis to launch a swimsuit collection featuring the hotel's signature print. LaylowWaikiki.com.
The Twin Fin (formerly the Aston Waikiki Beach Hotel)
The Twin Fin will open in November following a multimillion-dollar renovation of the former Aston Waikiki Beach Hotel. The hotel's name is derived from "the two-finned mellow and cruise-y surfboard design." The updated hotel aims to embrace "Hawaiʻi's laid-back and lively spirit with an oceanfront backdrop, tropical ambiance and unexpected experiences, and endless opportunities to share memorable, meaningful moments."
Surf's Up! The Twin Fin has partnered with leading wave forecasting and surf report company Surfline to install three high-definition cameras for streaming real-time surf conditions on a large-scale lobby video wall and other locations throughout the hotel. Guests will also receive a Surfline Premium membership discount following their stay. TwinFinWaikiki.com
Waikiki Beach Marriott Resort & Spa
The Waikiki Beach Marriott Resort and Spa is welcoming guests with fall savings, updated guest rooms and new amenities:

Fall For Suite Savings — Experience Waikiki Beach Marriott Resort and Spa's newly rebranded Crown Suite collection with the Fall For Suite Savings limited-time offer. The promotion provides guests with complimentary room upgrades or suites at discounted rates, and is valid now through November 6. Rooms start from $415 per night and suites from $700 per night. To book, visit the resort's website or call (808) 922-6611.
Updated Accommodations — Accented with hints of midcentury modern design, the resort's updated guest rooms and suites feature a contemporary aesthetic meant to "celebrate the energy and attitude of modern surf culture, with a playful nod to the timeless charm of surfing's past." The rooms are comfortably stylish with beachfront views of Waikīkī's shoreline and in-room touches, including custom-printed surf ponchos. In addition, each guest receives a custom Twin Fin-branded phone mount from Tenikle during their stay.
New Looks — New uniforms for resort staff are designed by Hawai'i-based clothing brand Throwback League and the hotel's pool deck has been updated with six new cabanas. Pool service is offered overlooking Waikīkī's shoreline, and a rotating series of DJs and musicians provide evening spins. Artist collective POW! WOW! Hawai'i has also created custom murals, activations and photo opportunities throughout the property, including a surfboard installation at the resort entrance. Six surfboards are slated to be painted with ocean themes by three Hawaiʻi-based artists.
Mālama Oʻahu
 
International Market Place
International Market Place has partnered with Sustainable Coastlines Hawaii to inspire mindful travel and protect and preserve the Islands' shorelines and surrounding ocean. Travelers participating in the center's DIY Beach Cleanup Program can receive a $20 gift card, valid at International Market Place through December 31. Visit the International Market Place's customer service desk on Level 1, Mauka Court for more information. ShopInternationalMarketPlace.com
Kualoa Ranch Private Nature Reserve
Kualoa Hawai'i is a 4,000-acre private nature reserve and working cattle ranch on the island of O'ahu. Guests can explore Kualoa daily via several tours, which include the Jurassic Valley Zipline, a Movie Site Tour, ATVs and raptors, horseback, ocean voyaging, fishpond, garden, beach activities, and even a new food tour. More than 50 movies and television programs have been filmed at Kualoa over the years, including "Jurassic World" and "Jurassic Park," "Lost," "50 First Dates," "Godzilla," and "Kong: Skull Island."
Mālama Experiences at Kualoa include:

The Mālama Uka Experience — Visitors are transported by UTV vehicle deep into the ranch's Kaʻaʻawa Valley to plant a native koa tree following Native Hawaiian protocols. Participants learn the integral role koa trees play in Kualoa's sustainable ranching and farming initiatives.
The Mālama Kula Experience — Participants sink their feet into an ancient loʻi kalo (irrigated taro terrace) and learn about the history and culinary uses of the Hawaiian staple crop kalo (taro) and Kualoa's mention in the Kumulipo Hawaiian creation chant "as being the place where the very first kalo plant sprouted."
The Mālama Kai Experience — Guests participate in a hands-on visit to the ranch's oceanside Moliʻi Fishpond, which is listed on the National Register of Historic Places and has been utilized continuously over the past 800 years for food production and gathering. Kualoa.com
Mālama Maunalua
Mālama Maunalua invites resident and visitor volunteers to help restore, preserve and protect Maunalua Bay on O'ahu's southeastern coastline by removing invasive algae, planting thermally resistant coral and monitoring the bay's native ecosystem. The nonprofit community organization's monthly Community Huki work days tasks visitors and residents with working in tandem to protect the bay, learn about traditional Hawaiian sustainable land management practices, and listen to moʻolelo (stories) of the area. Malamamaunalua.org
Waikiki Beach Walk
Waikiki Beach Walk, a shopping, dining and entertainment district at Lewers Street and Kalākaua Avenue, is committed to preserving and sharing Hawai'i's rich cultural heritage. Its efforts include hosting multiple Hawaiian music and hula performances for residents and visitors. Entertainment highlights for the fall season include Makalauna, an annual tribute to pioneering Hawai'i musician Gabby Pahinui. WaikikiBeachWalk.com
Shop Local
Mahiku Farmers Market
A variety of fresh and unique products from local farmers, growers, artisans and food purveyors await customers of Mahiku Farmers Market, happening every first Thursday of the month, from 4 to 8 p.m. on Level 1 of the Banyan Court at International Market Place. ShopInternationalMarketPlace.com.
Ward Village
Ward Village, located between downtown Honolulu and Waikīkī, offers food, drink, shopping, entertainment and convenience. Stroll the area's tree-lined sidewalks, ride along its dedicated bike lanes, relax in one of its parks, uncover a new retail boutique, or choose from a variety of dining options. WardVillage.com.
Waikiki Beach Walk Open Market
This open market offers an eco-friendly way to support local businesses while discovering souvenirs, handmade art and snacks to take home for you or as a gift for someone special. Open Mondays from 4 to 8 p.m. WaikikiBeachWalk.com
Restaurants
The Blue Fish
Waikiki Beach Walk recently announced the planned December opening of The Blue Fish following an extensive renovation of the award-winning restaurant's second-floor space overlooking the plaza lawn. The 5,400-square-foot Japanese and Asian fusion concept restaurant complements Waikiki Beach Walk's diverse restaurant offerings. TheBlueFishSushi.com
Fête
Fête co-owner and Chef Robynne Mai'i was recently named by the James Beard Foundation as Best Chef in the Pacific and Northwest for 2022, becoming the first Native Hawaiian woman and first Hawai'i chef recipient of the foundation award in 19 years. Born and raised on O'ahu, Mai'i is the culinary mastermind behind seasonal New American restaurant Fête in downtown Honolulu and seasonal New Continental restaurant Heyday at the White Sands Hotel in Waikīkī. FeteHawaii.com
Halekulani
Earl's at House Without a Key, the Halekulani hotel's new pool bar, features signature  cocktails by the sea reminiscent of Hawai'i's golden age of travel. The hotel's Cattleya Wine Bar, located beachfront near Orchids restaurant, reopens in October with a menu matching Mediterranean-influenced tapas and regional and global coastal wines.
Halekulani Orchids Chef de Cuisine Christian Testa and La Mer Chef de Cuisine Alexandre Trancher were recently promoted to new executive chef roles. In addition, Pauline Lam recently joined the hotel's culinary team as executive pastry chef. Halekulani.com
International Market Place
Crackin' Kitchen: Grand Lānai, Level 3 — Open since 2015, Crackin' Kitchen offers a Hawaiian Cajun seafood experience with its Hawaiian Cajun Combos combining snow crab, shrimp, clams, mussels, corn, potatoes and SPAM cubes. It's all served in an environment of "family fun" where eating with your hands, sharing food and drinks, and having a good time is part of the experience. Crackin' Kitchen is open daily for lunch and dinner from noon to 11 p.m., with happy hour daily from 3 to 5 p.m. CrackinKitchen.com
Hashi & Spoon, Kūhiō Ave Food Hall, Level 1 — Hashi and Spoon is the newest addition to the locally owned Kūhiō Ave Food Hall, which is also home to a diversity of casual dining restaurants featuring dishes focused "on taste, quality and reasonable price points." The Japanese word "hashi" means chopsticks. And a hashi and spoon combination is all that is needed to enjoy the eatery's signature ramen noodle soup. Hashi and Spoon's ramen noodles are made fresh on Oʻahu and delivered daily, then paired with a selection of broths. Flavors include spicy tan-tan, savory tonkotsu, shoyu, miso and shio. While at the Food Hall, also check out Tipsy Tiki, an Island-themed bar featuring tropical cocktails and other libations. KuhioAvenueFoodHall.com
Herringbone Waikiki, Grand Lānai, Level 3 — Weekend brunch has resumed at Herringbone Waikiki, pairing fresh fruit mimosas with popular dishes such as the papaya bowl, eggs Benedict and mochi pancakes. Brunch is offered at Herringbone on Saturdays and Sundays from 11:30 a.m. to 2:30 p.m. The eatery's new Island Burger is now on its daily happy hour menu for guests to enjoy in the bar and lounge from 4 to 6 p.m.
The Laylow
The open-air poolside restaurant Hideout at The Laylow recently launched a daily bar lunch service from 11 a.m. to 4 p.m. Advancing the hotel's mission to purchase more locally sourced products, island of Hawai'i-based Big Island Coffee Roasters is now The Laylow's official supplier of local-grown coffee for Hideout guests. HideoutWaikiki.com
Moana Surfrider, A Westin Resort & Spa, Waikiki Beach
Moana Surfrider, a Westin Resort and Spa, Waikiki Beach recently brought back Tea Time on Friday afternoons. The time-honored tradition of afternoon tea under the canopy of the hotel's famous banyan tree now happens Friday through Sunday, from 11:30 a.m. to 2:30 p.m. (Final reservations are at 2:15 p.m.). Guests for Tea Time choose from four tea sets, and a keiki set for kids is also offered. For reservations, call the hotel's dining desk at (808) 921-4600, or visit OpenTable at Veranda – Moana Surfrider.
Monkeypod Kitchen by Merriman
Monkeypod Kitchen by Merriman is set to open its fourth Hawai'i location in the Outrigger Reef Waikiki Beach in the first quarter of 2023. Owner company Handcrafted Restaurants is excited to bring Monkeypod's food and drink craft to Waikīkī. MonkeypodKitchen.com
Nalu Health Bar and Café
Waikiki Beach Walk recently announced the addition of Nalu Health Bar and Cafe, a Hawaiʻi-based business known for its açaí bowls and healthy food offerings, to its selection of eateries. Set to open this fall fronting Lewers Street, Nalu Health Bar and Café's fourth location will be its first in Waikīkī. The café's made-to-order menu includes sandwiches, wraps, salads, fresh juices and smoothies. Organic ingredients are incorporated into menu items, whenever possible. NaluHealthBar.com
All information is subject to change without notice. For more information, please go to www.visit-oahu.com, follow OVB's tweets at www.twitter.com/OahuVB, become a fan of Oahu on Facebook at www.Facebook.com/OahuHawaii, and follow @OahuVB on Instagram.
-pau-
Contact:               
Pua Sterling
Anthology a FINN Partners Company
Email: [email protected]
Website: http://media.gohawaii.com/oahu/